Nathan Begley
|
Saturday, March 6, 2010 at 5:41PM
A common refrain among Portland Trail Blazer fans is that Portland should play at a faster tempo. Fans point to Rudy Fernandez, LaMarcus Aldridge, Andre Miller, and Nicolas Batum as pieces that might be better utilized in an up tempo offense. So why do the Blazers play so slowly?
The answer: Nate McMillan.
The signature of McMillan's offense is a slow paced and offensively efficiency attack. With a quick check of Basketball-Reference you can see that last season Portland played at a snail's pace of 86.6 possessions per game, while posting a league leading 113.9 points per 100 possessions. The result of this slow, but efficient, attack was a winning streak of 44-consecutive games when Portland held their opponents to 90 points or less.
The chart below confirms our observations. McMillan coached teams are generally slow paced and highly effective. Exceptions to high offensive efficiency being in 2003 when Ray Allen and Desmond Mason were injured (for the Sonics) and in 2006 when McMillan took over an abysmal Trail Blazers team (Note: to simplify things, I used the last number of the highest season year, e.g. the 2000-2001 season is simply "1"). In 2004, it looks like McMillan stepped up the pace, and he did, by nearly two possessions per game. However, the league that year played at the slowest pace of the decade, so even though that season the Sonics were 15th in pace, they really weren't playing much faster than any McMillan team ever has. One thing that stands out is that as a team adopts McMillan's offense, the offensive rating rises pretty steadily and the pace falls farther below the league average.
Ryan J. Parker has done some excellent research on how a play ends based on how it started. I highly recommend reading his entire article because it has lots of pretty charts and interesting info. Anyhow, take a look at this: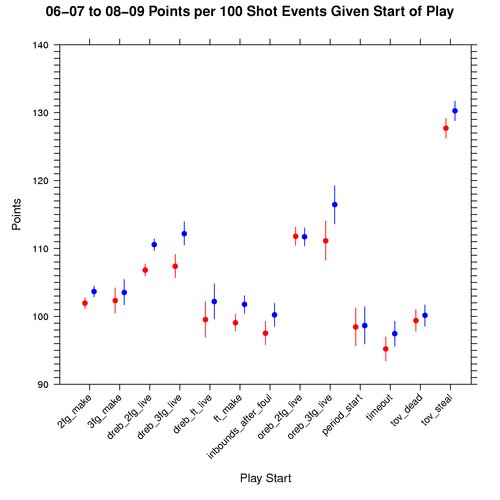 What the above chart (which Ryan J. Parker made and can be found on the page to which I linked) shows is the points scored per 100 shot events. Or in other words, this chart shows what happens when a team gets the ball and gets a shot off. If a team were to steal the ball and shoot a layup—hit or miss—it is counted here. If instead a team stole the ball and then threw it out of bounds, that possession would not show up because there was no shot attempted. The lines cutting through the plot points demonstrate the range in which the value of a given play fluctuates. For instance, a play that starts after a made two point shot has a pretty steady value, which makes sense because typically after a made shot from the field, the ball is inbounded and brought up the floor. In contrast, a play that starts with an offensive rebound has a lot of fluctuation because there is no set starting point. Some offensive rebounds bounce long or are tipped to a teammate, sometimes the offensive rebound results in a put-back dunk, or perhaps the ball gets tipped several times without going in, and sometimes the offensive rebounder gets fouled, etc.
Now, what should stand out is that steals and rebounds are particularly valuable. If you absolutely must give the ball up to the other team, it is vastly preferential that it be in a dead ball situation. Which makes sense because then the other team has to attack against a set defense. In contrast, steals and defensive rebounds can lead to outlet passes and high percentage fast break scores.
McMillan really values taking care of the ball. The Oregonian's Jason Quick had this quote from Andre Miller:
"Every team worries about turnovers, but this team stresses it more than other teams," Miller said. "So I've tried to put an emphasis on that, making simple passes and not a lot of high-risk passes like I normally do."
So why so slow?
My guess is because of McMillan's strong emphasis on taking care of the ball, the team as a whole tends to play slower and tries to make the safe pass rather than the homerun—or highlight, or rushed—pass. In addition to a positive effect on offensive efficiency, the Blazers low turnover rate also boosts Portland's defensive efficiency. By not turning the ball over, Portland is maximizing the value of each offensive possession and limiting easy buckets on defense. Therefore, love it or hate it, don't expect the Blazers to play faster unless the turnovers stay down.